In my experience air cylinders for filling PCPs are one of the least-understood areas of airgunning; an issue compounded by the fact that there doesn't appear to be a whole lot on info about on the internetz.
While undeniably utilitarian and wholly uninteresting compared to other bits of shooting kit, air cylinders are an integral part of the ritual for many of us with PCPs; so it pays (literally) to get a decent example that's suited to the task in hand.
A quick look on ebay will illustrate the ridiculous amounts of money people will pay for cylinders that are effectively worthless; I've also noticed a few "got this off ebay / a mate / a bloke down the pub" posts on the forum too. In an effort to prevent the good people of AGF being ripped off, here's a quick and dirty guide to buying an air cylinder.
I don't claim to know everything (so please correct me if you spot an error and something I've neglected) however paying attention to the factors listed below will get you a long way towards the getting the best compressed air storage for your money.
Pressure


Typically air cylinders are available in three working /service pressures (often expressed as PW or PS) - 207, 232 and 300bar.
Air rifles are usually filled to around 180-200bar - so for our purposes the cylinder is effectively empty once it falls below this pressure. Assuming a 200bar rifle fill pressure, a 207bar cylinder only has a 7bar "head" and hence won't give many fills. with 32bar of head a 232bar cylinder will give around 4.5 times more fills than the 207bar cylinder (assuming the same cylinder capacity) while a 300bar cylinder will give 14 times more fills than the 207bar bottle and around three times as many as the 232bar item.
Because of the above it's advisable to go for a 300bar cylinder. 232bar in larger sizes is OK at a push while 207bar cylinders should be avoided full stop. Pretty much all new cylinders are 300bar, however there are plenty of 232 and 207bar units on the used market.
Cylinders are tested to 150% of their working pressure; so a 207bar WP cylinder would be tested to 311bar, 232bar WP to 348bar and 300bar WP to 450 bar test pressure. Be aware that sometimes sellers quote the test pressure rather than the working pressure (mistakenly or otherwise
) - seeing any of the test pressures mentioned here (or indeed anything over 300bar) stated as the working pressure should set alarm bells ringing.
The working and test pressures will be stamped around the bottle's upper hemisphere; just below the neck. Working pressure is usually expressed as "PS" while test pressure is most commonly written as "PT" - for example a 232bar cylinder will be marked something like "PS232BAR PT348BAR".
The pressure information on this 300bar cylinder ("PS300PT450BAR") pictured below can clearly be seen in the middle row of text, above the date: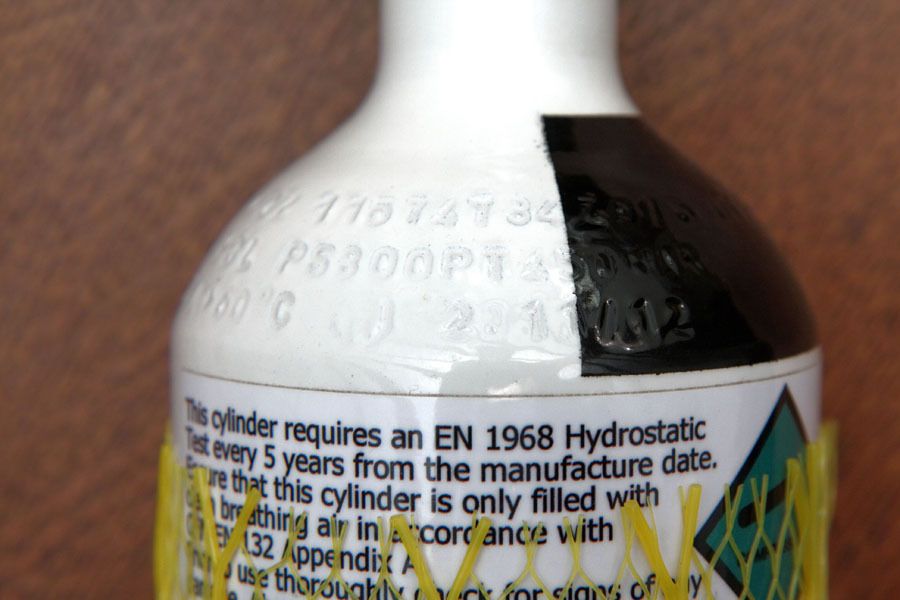 Capacity


Most commonly cylinders come in 3, 7 and 12 litre capacities; however other sizes do exist. Cost per unit capacity does come down as capacity increases (at around £140 a 3L 300bar cylinder costs about £47 per litre, while a £195 7L 300bar cylinder costs around £28 per litre), however consider how much air you're likely to use as well as storage and carriage. Larger cylinders are inevitably both bigger and heavier, so factor this in when buying.
You can't really consider capacity independently of pressure. At 300bar, a 3L cylinder is perfect for most recreational users of 12ftlb machinery (I'd expect maybe 15-20 fills of a full-length Air Arms S410 of 212cc capacity from such a cylinder). A 7 litre will be of more use to those who shoot a lot and people with FAC air, while units of this capacity and the larger 12 Litre bottles are great for sharing or club use. At 232bar anything less than 10 or 12 litres is best forgotten IMO.
In keeping with the example given for pressure, a good rule of thumb is that a cylinder at 300bar will hold about as much "useful" air as a 232bar cylinder of three times the capacity - so a 4L 300bar cylinder will give as many fills as a 12 litre 232bar cylinder (and is a lot smaller and more manageable).
As with pressure, capacity in litres is usually stamped on the cylinder - the bottle in the image below has a capacity of 15.0L: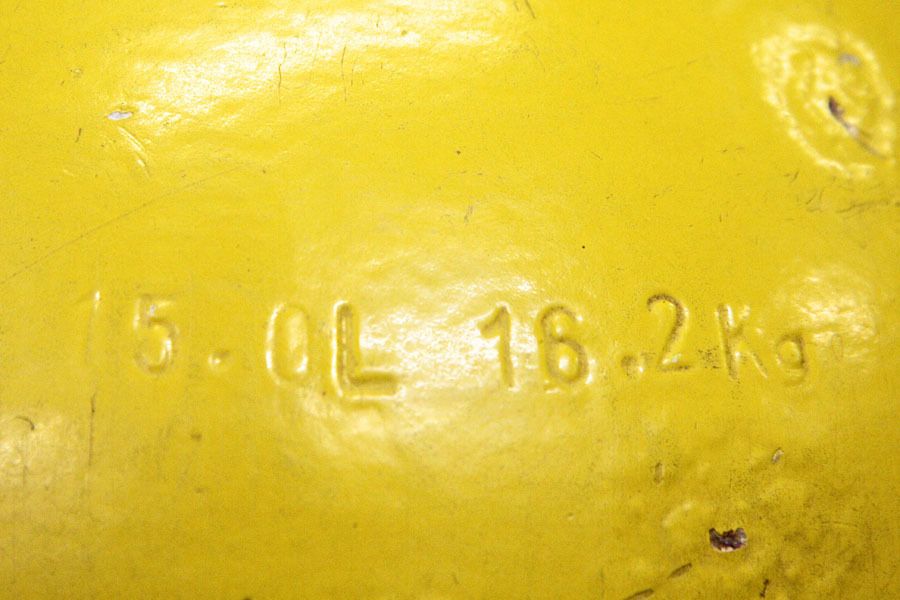 Material


Cylinders are typically available in one of three materials - Steel, Aluminium and Composite. Cylinder test intervals are the same regardless of material - being defined instead by the valve type fitted (see below).
Steel is the most common material, it is also the heaviest but arguably the least potential hassle. Steel is a sturdy and predictable material but can corrode (then again so can most other things); with internal corrosion being the most potentially dangerous.
Aluminium is significantly lighter than steel (although wall thickness for a given pressure will be greater due to the materials lower strength), although again it can corrode and can also suffer from issues relating to constant and cyclic loading. Apparently the alloy used for some earlier cylinders is prone to cracking so may require a crack test in addition to the standard hydrostatic test.
Composite cylinders are usually constructed from carbon fibre and/or aramid fibre (kevlar) reinforced plastic, sometimes with an internal aluminium liner. These cylinders are the lightest of them all, however due to the difficulty of identifying damage in composites (as well as their very low strain to failure behaviour, meaning they give little warning before they let go) they are usually given a finite lifespan after which they cannot legally be filled (they're still subject to periodic hydrostatic testing during their lifetime). This lifespan is usually in the order of 10-15yrs, but of course it pays to check before parting with cash!
Note that composite cylinders will not have identification / specs stamped into their surface - instead it will be etched, painted or stuck on (at a guess - I've not handled many).
Of the three I prefer Steel (since I'm tight and want the cylinder to last forever
) however if you feel the mass advantage of other materials is critical you might think differently.
Valve Type


The type of valve fitted to the cylinder is of great importance to shooters.
When PCPs were just becoming available cylinders intended for the much-more-established diving industry were used to fill them; all of which were (and are) subject to a 2.5yr test interval. As the demand for cylinders to fill air rifles increased, bottles began being supplied with dedicated valve assemblies; incorporating (in addition to the usual valve knob and threaded DIN outlet or A-clamp post) a bleed valve and pressure gauge. Since these cylinders are unsuitable for use in water, they're designated "surface use only" and are subject to test intervals of 5yrs on account of their less corrosive operating environment. A good, common example of this valve type is the Midland Diving Equipment (MDE) "Jubilee" valve.
The cost of a test for either valve type is the same (typically £20-£45, depending on where you are in the country). It makes sense to take the "surface use" cylinder over "sub-surface use" alternatives; since over a reasonable lifetime you'll pay half as much for tests and be without the cylinder for less time. It's worth noting that some cylinders with sub-surface valves occasionally crop up with "surface use only" stickers on them - since the test is defined by valve type most people consider them to still be subject to the shorter test interval
The cylinder pictured below has a surface use / 5yr test MDE Jubilee valve fitted: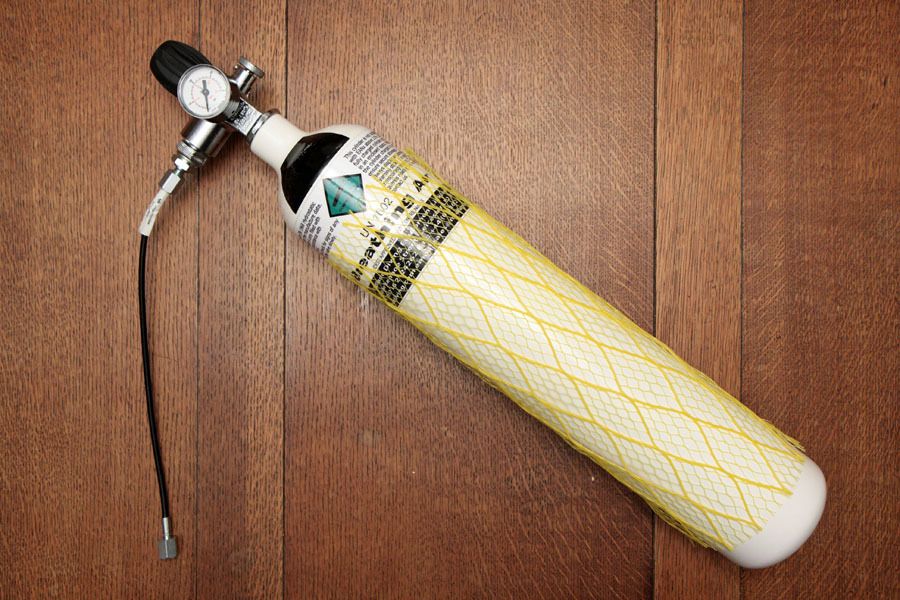 Despite being a bit less common than the MDE valve, the Hydrotech valve shown below is also surface use / 5yr test as it has an integrated gauge and bleed: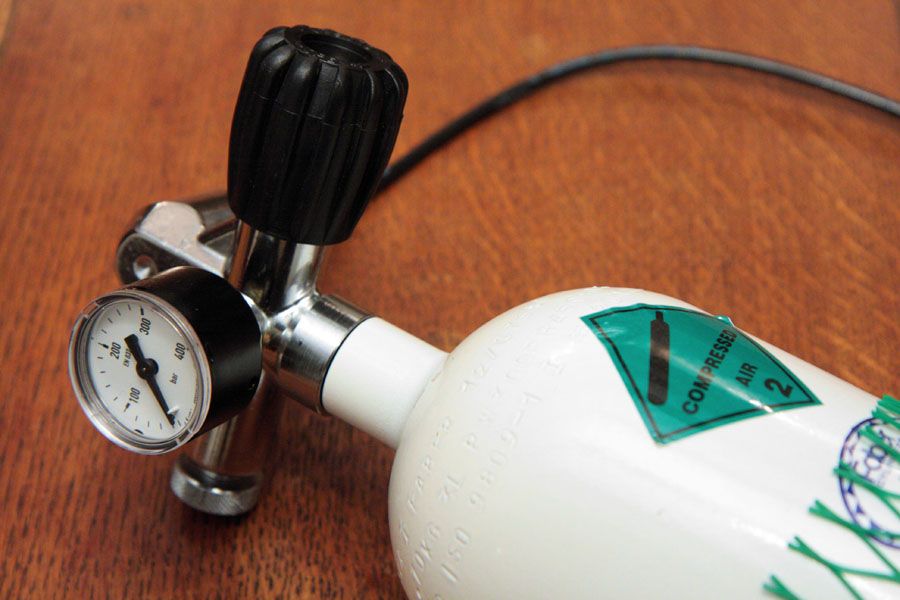 Conversely the Faber cylinder shown below is fitted with a 2.5yr-test sub-surface valve - since it has not integral gauge and bleed assembly: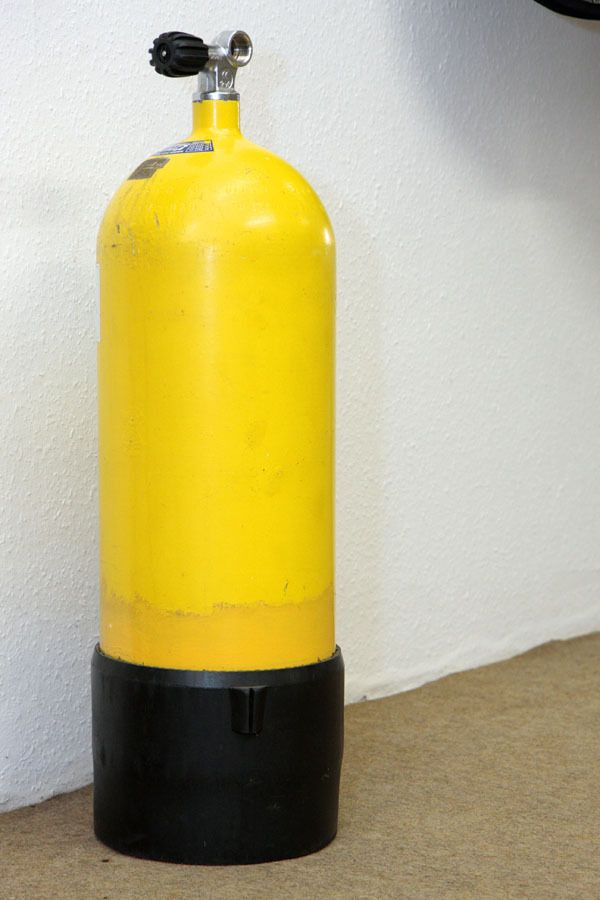 One final thing to remember regarding valve type is the additional DIN-fitting gauge and bleed assembly required for sub-surface cylinders - often this is not included used and will cost around £60 new / £35 used, like this one: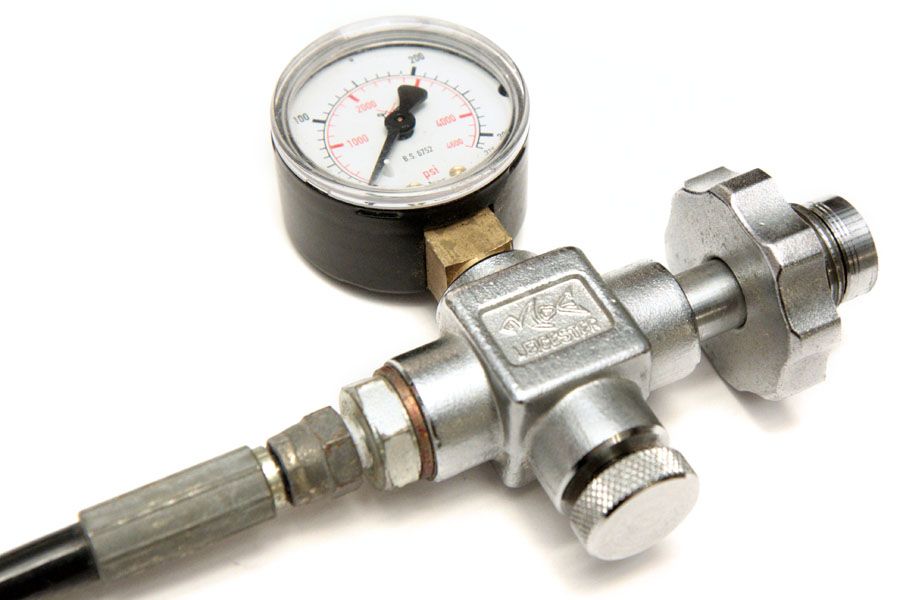 Test Period


The remaining test left on the cylinder is a very important consideration when buying. Primarily it shows how long the cylinder will be able to be filled before you have to incur the cost and hassle of testing. In addition, there's always a small element of uncertainty and risk when testing, since the cylinder could theoretically fail and become a total loss.
A cylinder is an unknown quantity if untested; reducing the value by significantly more than the cost of the test alone. As an example, a used 3L 300bar that might be worth £70-90 with a test would only legitimately be worth £20-30 out of test, if that.
Depending on the cylinder's valve type (as explained above) it will need testing either 2.5 or 5 years after manufacture. When tested some centres stamp the new expiry date on the cylinder (which is usually highlighted / corrosion-proofed with paint), while the more common / recent method is to attach a sticker to the neck area. Such stickers are blue and display a grid of months on one side and years on the other - the appropriate test expiry date is punched out on each side.
These two features are illustrated in the image below; it can be seen that according to the sticker the most recent test expired in Jan 2010 and the cylinder had been tested twice before that - as indicated by the gold-painted stampings beneath the sticker.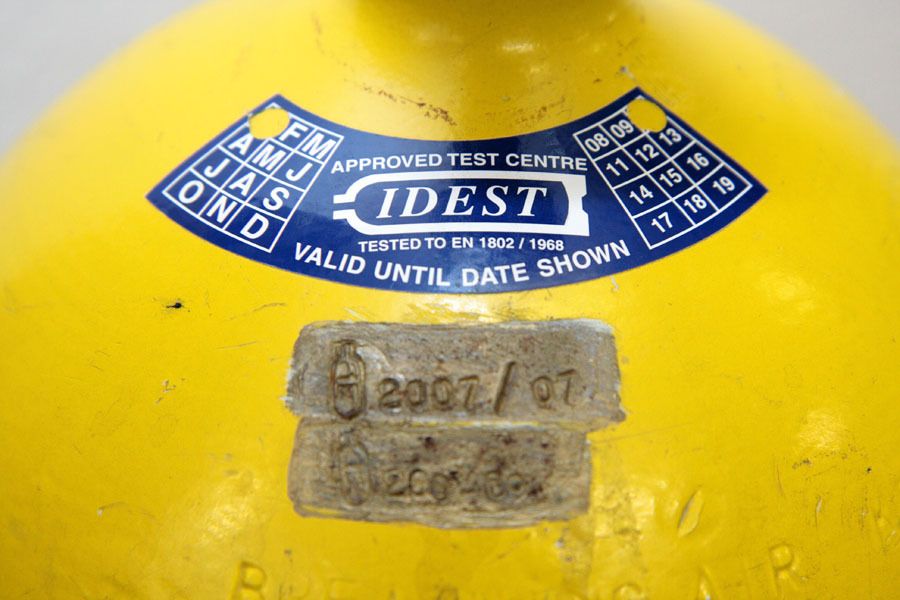 Finally it's worth noting that cylinders are only required to be in test to be filled, not used. This means that you can extend the life of your cylinder somewhat by getting it filled just before the test period runs out; maximising the period between tests.
Condition


The most important surface on any bottle is its interior, since this is subject to the most stress. Unfortunately this is also the hardest to inspect; which is only usually done during a test. That said cylinder with significant external corrosion (on metal cylinders) or damage are best avoided and give a clue to how they've been treated. In addition be wary of cylinders that have been stored empty / with their valves open, as this could promote internal corrosion.
Age
To an extent the age of a cylinder goes hand in hand with its pressure and valve type; so if paying attention to these factors a lot of old cylinders should be ruled out anyway. If given the choice a newer cylinder is probably a safer bet, all things being equal; however the condition and remaining test period are more important.
The manufacture date should be stamped on the top of the bottle with the other information (pressure, capacity etc) and is usually expressed as year/month - so a cylinder marked 2013/08 would have been manufactured in August 2013 (the date can be seen in the first image in this post that also illustrates bottle pressure specs).
So there we go. It's a bit of a minefield (that's fairly easy to negotiate once you know how
), and knowing a few key things can help you identify the difference between a cylinder that's worth the asking price and one that's literally worthless.
As a rough guide, used 300bar 3L, surface-use cylinders are worth maybe £70-90 if in test, perhaps £20 if not. Around £110-130 tested / £30-50 untested is a fair price for similar 7L cylinders, as is maybe £140-160 tested / £40-60 untested for 12L types. New cylinders have recently come down in price so it may take a while for the used market to adjust.
To be honest I'd always look for a 300bar steel cylinder with surface use valve and at least 2-3yrs of remaining test. Large capacity surface use 232bar cylinders might be worth a look if tested and dirt cheap, as might sub surface 300bar cylinders if you can stomach the drawbacks of either type. Aluminium and composite items might be worth a look if weight really is a problem, although be aware of the potential issues. Avoid 207bar cylinders completely as they're effectively worthless.
Also remember that even if it's free, a low-pressure, sub-surface bottle with no gauge assy or test will potentially cost a lot more to get going than a used bottle of better spec, will cost more in the long run and still won't provide an ideal solution. Just because it's free, doesn't mean it's a bargain!
..and in my head I imagined that all as a few paragraphs tops
I hope this post will reduce the frequency of future forum threads devoted to the purchase of overpriced and unsuitable scrappers - there's no longer an excuse for not knowing what to buy